Product Safety and Australian Standards
Author: Gina Date Posted:3 January 2017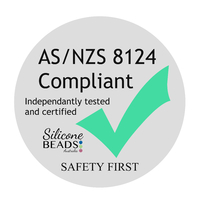 Happy New Year!
We have enjoyed a short but relaxing break over the holiday season and are ready to hit the ground running in 2017.
It is great to see so many makers entering the market launching their home businesses, we are consistently receiving 20-30 wholesale requests each week so I thought I would jot down a few notes and handy links for you all as I know it can be a bit mind boggling out there!
SAFETY STANDARDS
I am going to simplify this as much as I can as I know it can be overwhelming trying to find correct information and then making sense of it.
All toys in Australia and New Zealand for children under 36 months MUST comply to the AS/NZS ISO 8124 set of standards.
The sections of 8124 relevant to us are -
1 - Physical and mechanical properties
2 - Flammability
3 - Migration of certain elements
All our silicone beads are tested to part 2 and 3, which is basically covering you for the chemical composition. So non-toxic, not flammable etc.
All our silicone teethers are tested to part 1, 2 and 3, which means they pass as stand-alone toys both physically (size/shape) and chemically.
The main issue we are seeing is people are under the impression that by using our compliant components they are automatically making a compliant toy.
If you make a teether/toy using our silicone beads you still need to be certain that it complies with section 1 of the 8124 standards. It is not compulsory to have your items tested, BUT they must be able to pass testing if a governing body like the ACCC requests proof that your toy is compliant. Consumers are also becomming more aware of hand made baby items and are starting to ask for proof of testing before purchasing a product.
You can visit the NATA website for information on accredited testing labs. Offshore testing facilities can be more economical than Australian based ones to have your product tested, ensure they are accreddited for testing to Australian/New Zealand standards.
You can purchase a copy of the toy standards (AS/NZS ISO 8124.1:2016 - unfortunately you will not find a copy online for free) here
I hope this helps point you all in the right direction regarding the requirements for making teether toys, another great resource is the facebook group - "Teething Toy and Silicone Jewellery Safety for Australian Business Owners" where you will find a wealth of suport and information.
2017, let's do this!
Happy creating :-)
Gina
---
Leave a comment