Happy New Year 2016!
Author: Gina Date Posted:9 January 2016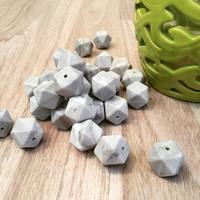 Hello!
Welcome to the first Blog post for the year!
I can't get over the rate that Silicone Beads Australia has grown over the last 12 months. We have had so much fun choosing our extensive colour range of silicone beads, bangles and teethers, and loved seeing what our wonderful customers created using them. I can't wait to show you what we have in store for 2016!
We have already launched 2 new silicone bead colours - jade green and dark peach, and after months of perfecting the effect, our grey marble silicone beads. January has also seen the launch of our exclusive design Oval Disc silicone beads that are available in 8 on-trend colours.
We have 2 more custom design silicone beads in the works, both due for release mid-late March.
Wishing everyone the very best for 2016, lets smash it!
Gina x
---
Leave a comment