February Wrap-up
Author: Gina Date Posted:1 March 2016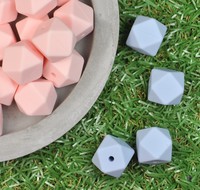 February. It's done.
What a month it has been! A massive welcome to all our new wholesale and retail customers!
February is traditionally our busiest month, and this year has been no exception. Silicone Beads Australia has also moved to a new, bigger location! It is so great to have the extra space, now we wait patiently for all the new silicone bead storage and office furniture to arrive...
In other silicone bead news, our new Baby Blue and Baby Pink colours have nearly sold out in less than a month! More are on their way, and the colour range has been expanded to include 12mm round and abacus. Other colours that will be available soon in new sizes will be Jade Green (in abacus) and Dark Peach (in Hexagon and 15mm). Happy days!
We are already noticing a shift towards colours like navy and mustard as the season is changing, with plum port, khaki and chocolate coming up not far behind. I love how a new season brings new inspiration.
We are still working closely with the manufacturer to ensure the effect on our grey marble beads is produced at a consistent high standard, something that is proving to be tricky! I've been working on this effect for so long now, I'm in too deep to give up just yet! Thanks for your patience while we get it right.
It has been great seeing the amazing jewellery and teether designs you are all coming up with incorporating our silicone beads. Please feel free to post pictures on our facebook wall so we can share with the rest of our followers.
Have a wonderful March!
---
Leave a comment